The Warrior Open is a competitive 36-hole golf tournament that takes place over two days every fall in the Dallas area. The event honors U.S. service members wounded in the global war on terror. The tournament spotlights organizations that support service members and their families.

.

Sergeant Johnnie Yellock II joined the United States Air Force in 2007 after earning a bachelor's degree in manufacturing engineering. He has been a Combat Controller for six years and has twice deployed to Afghanistan.



Sergeant Yellock began playing golf at age 13 and has been hooked ever since. In high school, he worked as a caddy at a prestigious golf course, which allowed him to play and practice golf at least five times a week. Before his injuries, his career and training made it difficult to dedicate much time to the sport he loves. Post injury, he plays as often as possible.

Watch video to right; In JOYII's Own Words..................

.

.

.

.

.

Above are Ismael Villegas, Jack Fanning, and JOYII; Then Johnnie O. Yellock Senior, Johnnie O. Yellock II, Ismael Villegas, Center, Jack Fanning.
Also shown above is Thad Forester, brother of Mark Forester, and JOYII


.

.

.

.


In Honor of Thad's Brother and Family, We Remember, MARK FORESTER

.

.

More than 200 wounded servicemen and women from all branches of the military are in Colorado Springs this week for the third-annual Warrior Games hosted by the U.S. Olympic Committee.


Competitors are challenged by disabilities, including amputations, spinal cord injuries, post traumatic stress disorder and traumatic brain injury and compete in everything from archery to sitting volleyball, swimming, track & field and wheelchair basketball.

Johnnie and Reagan Yellock and their family from Fort Worth, Texas, were there to support their son, Johnnie Yellock II, in the Men's Open competition. Johnnie, a staff sergeant in the Air Force, injured both his legs when his vehicle hit an Improvised Explosive Device in Eastern Afghanistan last July.

"He's only been walking for eight weeks," the elder Yellock said of his son, who was cycling after eighteen surgeries.

.

.

.
Wounded Warrior Makes Final Military Free Fall Jump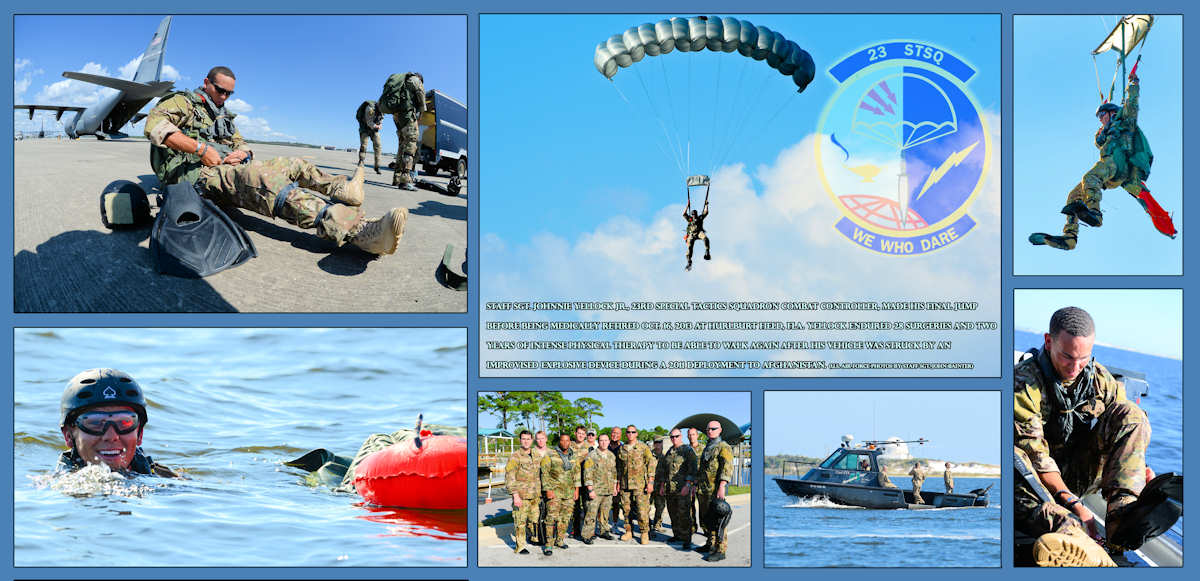 By Capt. Victoria Porto, Air Force Special Operations Command Public Affairs
Published October 18, 2013
HURLBURT FIELD, Fla. (AFNS) -- One by one, Airmen from the 23rd Special Tactics Squadron lined up at the back of a C-130 Hercules, paused, then stepped off the aircraft Oct. 16, completing their free fall training jump into the picturesque water of Florida's Emerald Coast.
For SSgt. Johnnie Yellock Jr., this jump was two years and 28 surgeries in the making.
In 2011, Yellock, a 23rd STS Combat Controller, was deployed to Afghanistan in support of Operation Enduring Freedom. While on a mission checking Afghan local police outposts, his vehicle was struck by an improvised explosive device.
"When I opened my eyes, I was on top of the truck with my legs hanging down onto the bed," Yellock said. "I had open fractures on both of my feet through my boots."
Despite his injuries, he continued to pass information to his team, including the details for a helicopter landing zone for his own medical evacuation.
"I'd been in the career field for years and I was trained for this type of situation, trained on medical trauma care," he said. "I took pride in the knowledge I had, and I was confident I'd be able to help a teammate if needed. I didn't expect it to be myself."
For two and a half months his parents and sister stayed by his side while he was recovering in the hospital in San Antonio, Texas. Once released, he began his outpatient rehabilitation and the long road to recovery. The first year, he stayed mostly in a wheelchair before he was finally able to walk, first with crutches, then unassisted.
The idea for the jump originated in the 23rd STS as his leadership was coordinating his return to Hurlburt Field to outprocess and medically retire Oct. 18.

Watch the Video Here.... HooYa!


I'll always be a Combat Controller
"We have a lot of wounded warriors in various stages of recovery, and maintaining care and contact with our wounded brothers is important to us," said Lt. Col. Mason Dula, the 23rd STS commander. "Of course, the jump is important for (Yellock) and a nice exclamation point for his career, but it's also equally important for the guys in our squadron to see him come back and see the commitment we have with all of our wounded warriors. They are still our teammates."
Yellock said his leadership made sure his doctors approved and that he could accomplish multiple tasks to prove he was ready, like swimming 100 meters with his gear on and going to wind tunnel training to show he could handle a free fall.
"People have said this is a symbol of resilience -- my attitude -- since the injury hasn't gotten me down," Yellock said. "But I tell them anybody in my situation, any of these other special tactics operators would handle it in the same way. I just hope they wouldn't have to."
During the jump, Yellock was surrounded by his fellow operators and teammates from the deployment, and supported by the same leaders who were there when he was hurt. He said that was even more meaningful than the jump itself.
"It just represents (Air Force Special Operations Command's) never-ending support for our wounded guys and our fallen comrades," he said. "I may be retired from the military, but I'll always be a Combat Controller."

HURLBURT FIELD — Staff Sgt. Johnnie Yellock II stood on the edge of the platform of a C-130 some 9,000 feet above Santa Rosa Sound, perched to leap into the air.
He couldn't help but think of the last time he had been aboard a C-130: more than two years ago on his way to a deployment in Afghanistan as Combat Controller. Not long after, his ankles and feet were shattered when his vehicle rolled over an improvised bomb.
After years of rehab, 28 surgeries and learning to walk again, the 29-year-old was able to jump out of a plane one last time last week before his retirement next month. He was flanked by his teammates, some of whom had been on the flight two years ago in Afghanistan.
"It was just incredible," Yellock said. "I've been away from the team, so to be able to come back and complete a jump with these guys just like old times, it was awesome."
Yellock's injuries were so severe that most doctors would have amputated his feet immediately, he said. With new medical technology, they opted to fuse his ankles and see if a high-tech brace would allow him to walk again.
.
Retirement Always Comes Too Early for CCTers
Say Good-Bye to SSgt Yellock as he sheds his uniform and Hello to Mister Johnnie O. Yellock as he start's a new chapter in life.
It's hard to keep up with our active duty guys and I wouldn't have been able to accomplish this page if it hadn't been for Johnnie's LOVING FAMILY, and specifically Retired USAF Chief Johnnie O. Yellock Senior keeping me abreast of JOYII's recovery to his retirement in which I was honored to attend. The last retirement I attendee was Jack Fanning's, and guess who was their attending JOYII's retirement.............................