All of these were taken when we had the team at Detachment 1, 56th Special Operations Wing, Udorn RTAFB, Thailand. I was there from November 1972 until June 1975... Rex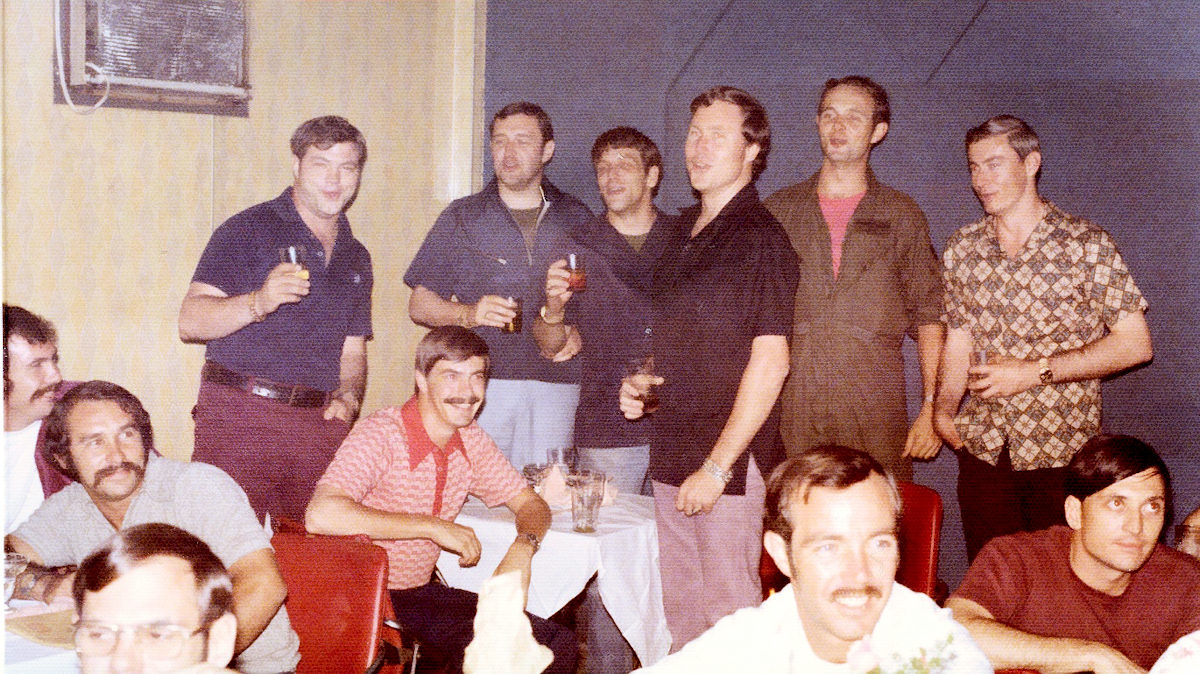 Picture of the UASF 'Raven' FAC's at one of our going away (Sawa-dee) parties. Standing L to R: Capt. Jim Roper / Capt. "Big" Al Galante / Capt. Dave Drier, who was killed in an F-4 crash at Nellis in the mid 70s/ Capt. Harold H. Owby, now a lawyer in Plano, Tx. / (in flight suit) Maj don't remember name / Capt. don't remember name. They are singing one of their songs that they made up. Sitting L to R: Two guys with heavy 'stashes' on the left edge were loadmaster-kickers for Air America on the Gray Ghost C-130. Guy in red shirt was another Raven, don't remember name. Guy in immediate front was an AT-28D pilot. Guy in wine colored t-shirt on the right edge was CWO 2 or 3 Phillip Lee. He would take his Huey and we would go out and make jumps. Great guy.

Above Left; Rex Evitts coming off the DZ in Thailand. Center - One of the FDC's that General Van Pao's Hmong Army (funded by the Agency) had on Skyline Ridge, that protected the northern approach to Long Chen, 20A, the big Agency base in northern Laos that we worked out of. Right; a Cambodia officer directing an AT-28D in for close air support at our live fire training range. Rex Evitts is on the right. The Cambodian officer was executed by the Khmer Rouge on his return to Cambodia after the country fell. Picture taken first part of 1975 when they were in training. Cambodia fell the first part of April 75. Below Left; The photo of the F-11 strike was taken in '74 at a firepower demo at Nightmare Range. Mike Lampe and I came out of Thailand to ROK with the F-111 boys for a couple of weeks to put on the demo.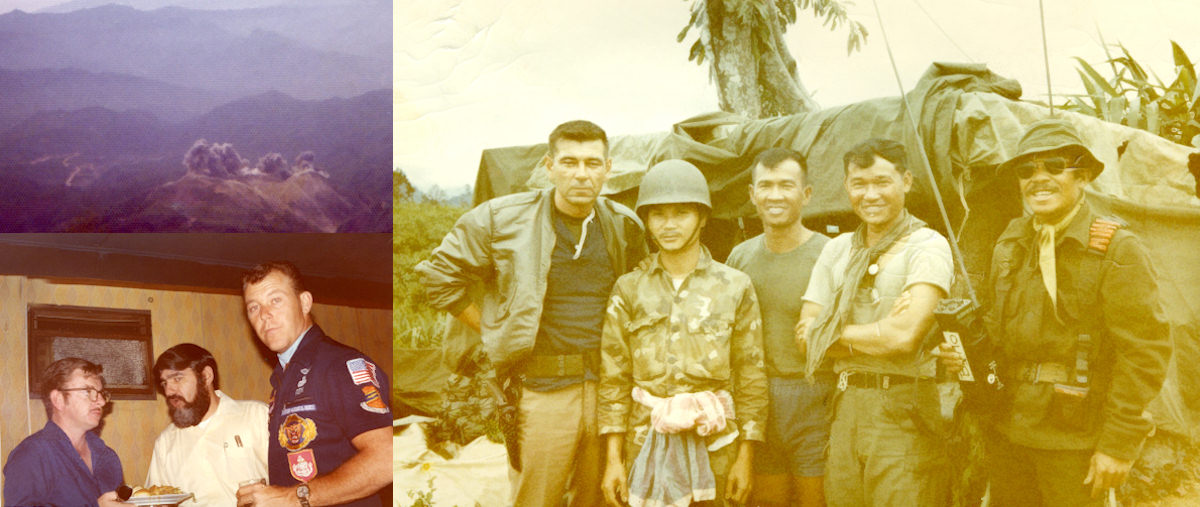 Above Left at a Sawa-dee Party, 73-74 timeframe. Det 1 Medic Joe Doyle on the left with glasses. 'Junkyard" Agency field operator with beard in the center, Rex Evitts to the right wearing the CCT party suit. Above Right - Up in Northern Laos. TSgt Bill Fitzgerald with our Foward Air Guides in Laos and the little guy to the far right 'Cowboy' was one of the Thai Merc's that we had trained, holding the fabled HT-2 radio I believe. This was taken a couple of months before I arrived.
Detachment 1, 56th Special Operations Wing, Udorn RTAFB, Thailand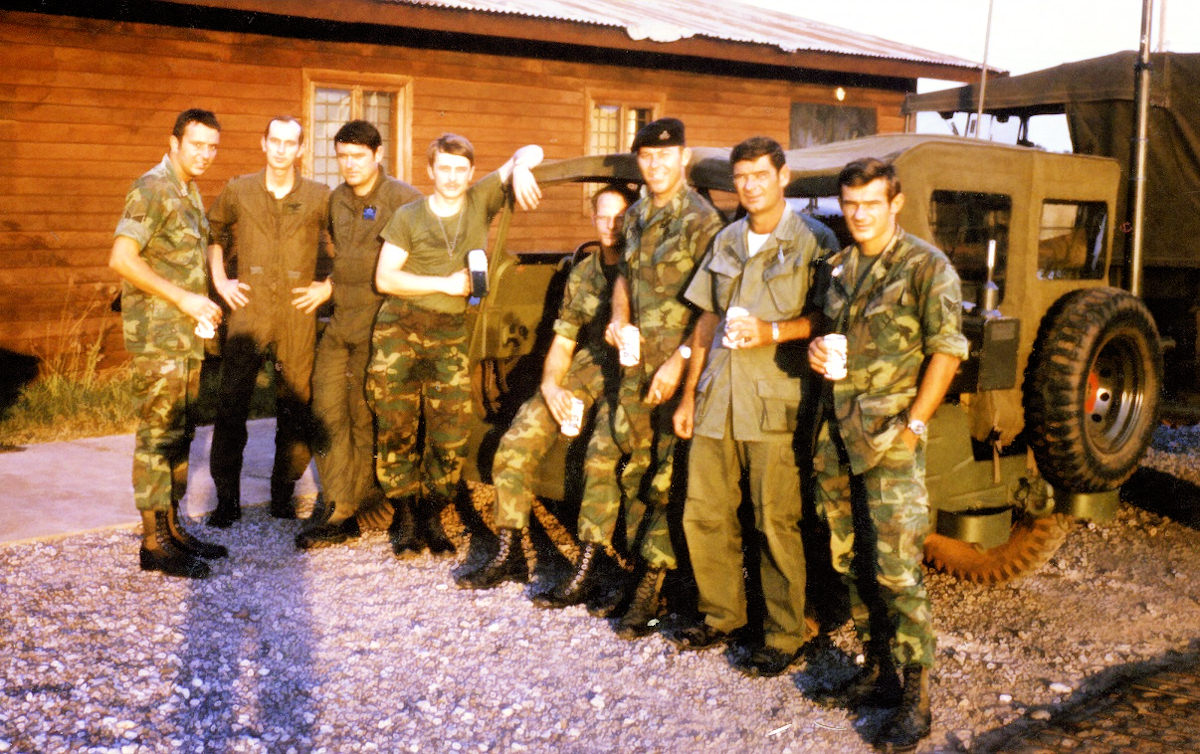 One of the few team photos, but not everyone is there. Probably 74 time frame. Left to Right: John Koren / Capt. T.C. Doring, AT-28D pilot instructor / Dick Brawley / George Crouse / Mike Lampe sitting in the jeep / Rex Evitts with beret on / TSgt Riggles, close friend from the Det 1 sheet metal fabrication shop / Stu Pressey. Photo taken in front of 1510, the CCT hooch next to the F4 Alert Pad, Udorn RTAFB, Thailand.

Above; First part of May 75, Trat, Thailand, on Thai-Cambodian border when South Vietnam fell. Det 1 worked a grass LZ receiving all small aircraft and rotary wing trying to escape for the fall of South Vietnam. Mitch Bryan in photo and we were celebrating the end of the mission and departing the following morning for Udorn. Center; Rex Evitts walking from a building that was used by JCRC at NKP, Thailand. Det 1 had been tasked to support the JCRC mission with 2 CCT personnel until the PCS CCT guys arrived on station. Right; Mitch Bryan at a pool in Udorn.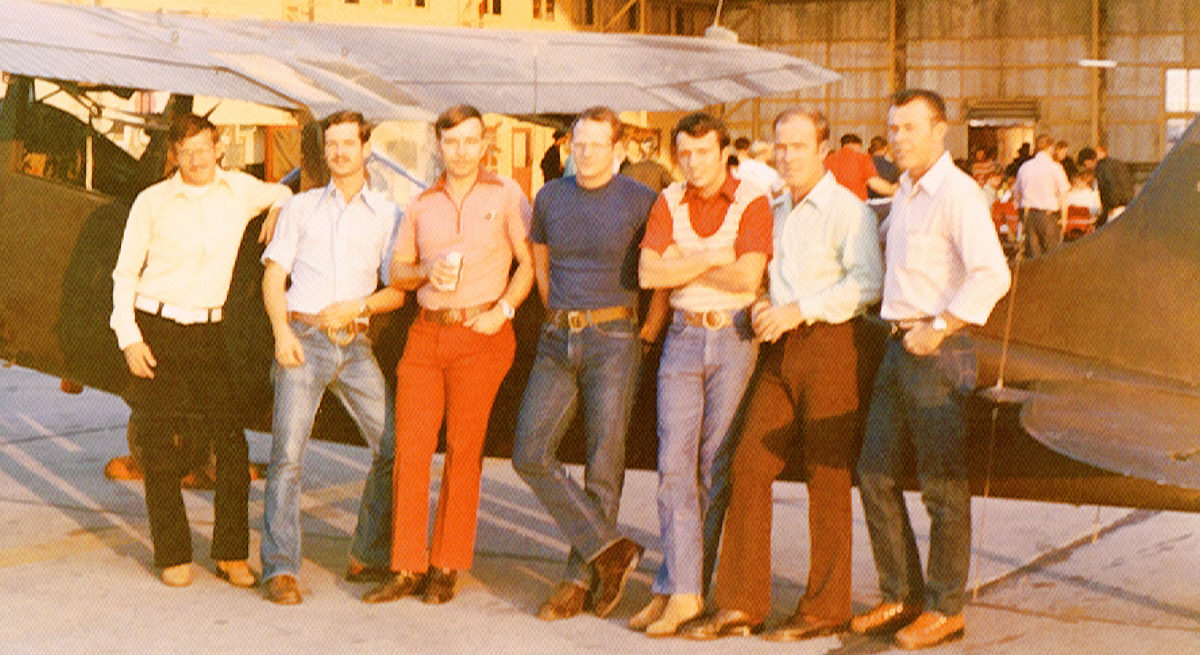 Above sent by Teddy "The Pants" Hurt; Stu Pressey, Rex Corbin, Teddy Hurt, Mike Lampe, John "J.K." Koren, Harold "Pepper" Adams, and Ranger Rex Evitts.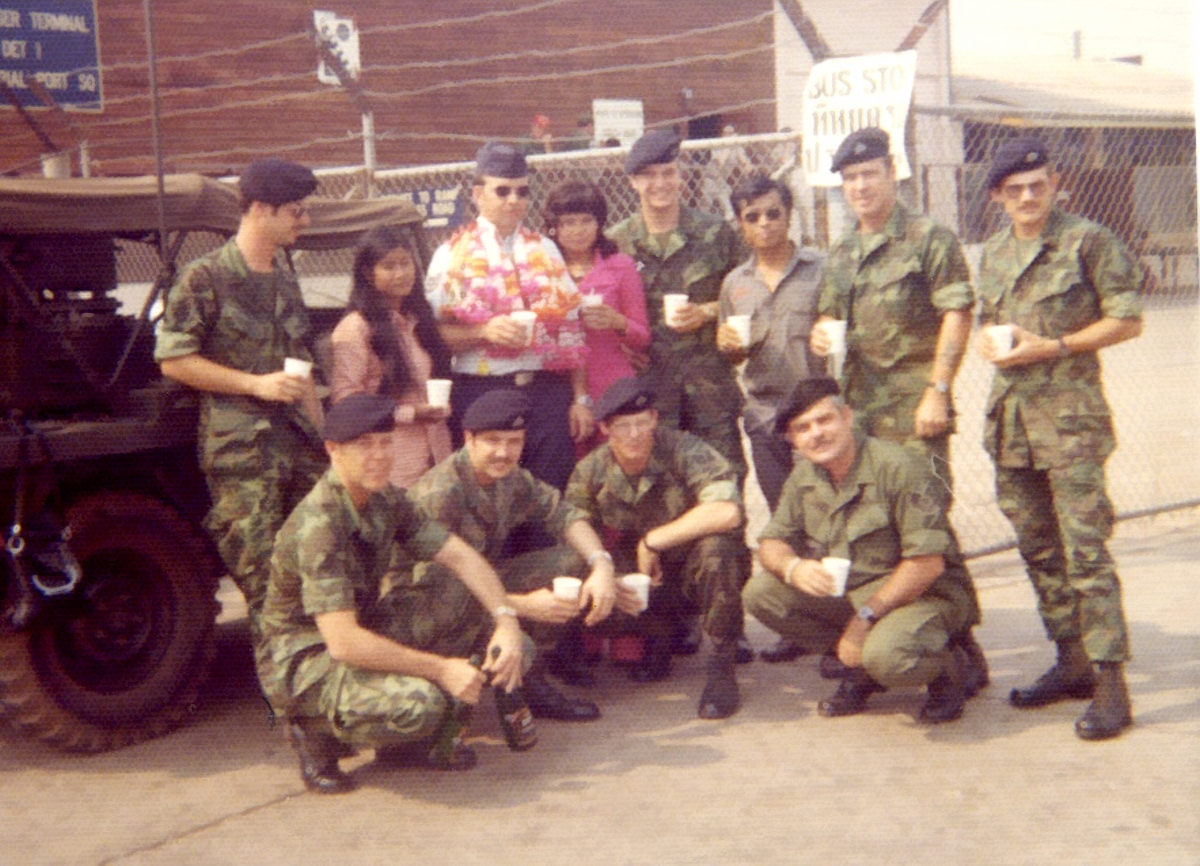 Above; Mar 74. At the Udorn Air Terminal, sending Teddy Hurt back to the states. Standing L to R: Rex Corbin /1510 house girl / Teddy Hurt / Miss P / Mike Brown / one of the Thai Merc's / Harold 'Pepper' Adams / Stu Pressey . Kneeling L to R: Rex Evitts / John Koren / Mike Lampe / Pete Larkin over from NKP assigned to JCRC.



Above; The Agency'sC-130 "Gray Ghost". Shuttling the Hmong Army out of Long Chen 20A into Nam Phong as the war in northern Laos was not going well. Center; Rex Evitts on single Stabo extraction. John Koren was Stabo Master with CWO 2 Phil Lee the pilot. Koren took Evitts up to 4,000 feet AGL that day, thus the reason for the picture. Right; AT-28D wreckage. Aircraft came in short of runway at Nam Phong that CCT was controlling. Cpt Brian Shul was in the back seat and a TCN was in the front. Shul sustained severe 3rd burns to most of his body, underwent 2 years of medical treatment, surgeries, and re-hab. Pull him up on the net and read his story. It is a little tainted as he did not get shot down that any of us knew about, and it was John Koren and the medic Joe Doyle that got to him at the crash site and got a medevac in there to him, not the Special Forces although they might have been referring to CCT as Special Forces. Made it back to duty, went on to fly the SR-71. USAF Academy grad, father a General. Great young man. Mike Lampe in the photo. Mike Lampe and Rex Evitts deployed the following day after crash in a JUSMAG CH-47 to sling load the engine back to Udorn. That sucker was still hot.



Above; Jun 73. At Pochen-Tong Airport, Cambodia, a Cambodian Pilatus Porter, with a 20 mm cannon sticking out the left side. This was their version of Spectre. Center, also at Pochen-Tong Airport, Cambodia, Mig sitting in the bone yard off the ramp. Right; Same Mig after restoration by the Cambodians.



Above; Jan 74. Pochen-Tong Airport, Cambodia. Rex Evitts.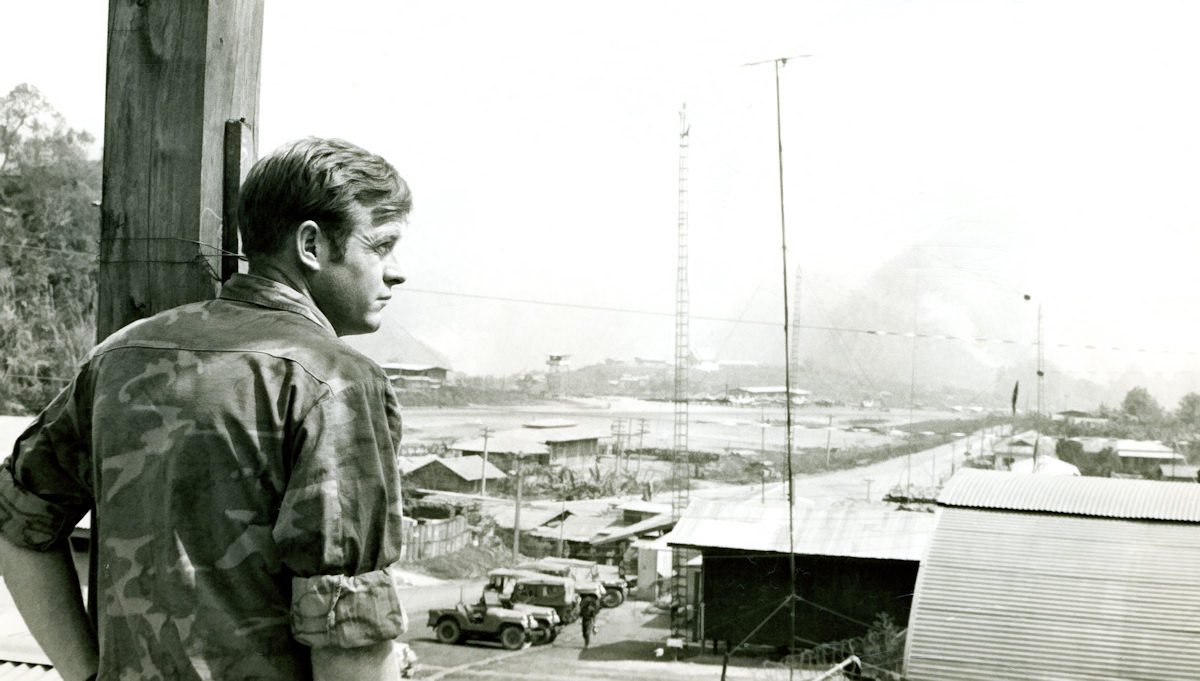 Rex Wales at Long Chen, 20A, Northern Laos. Taken outside of Red Dog Control that CCT used as the center for controlling air strikes. This photo was taken in late 73 by Rex Evitts. It is one of the last photos taken of Wales before he ended his life just months later.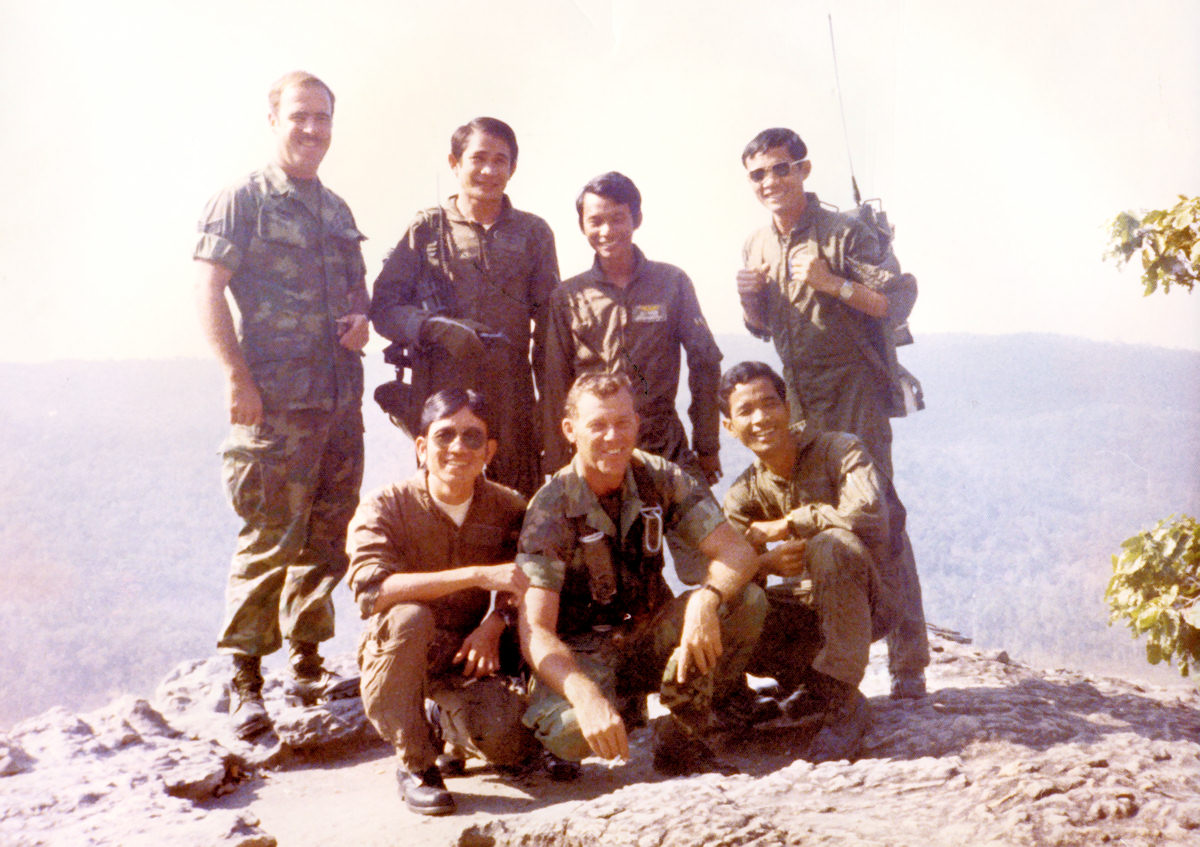 First part of 75. FAG Instructors at range with Cambodian FAG's. Standing far left, Harold 'Pepper' Adams. Kneeling in center, Rex Evitts.

Note;
All the Cambodians returned to Cambodia after it fell and all were executed.

The Cambodian Killing Fields - 3 years-8 months-20 days

On April 17, 1975, Phnom Penh fell under the control of the Khmer Rouge, the communist guerilla group led by Pol Pot. They forced all city residents into the countryside and to labor camps. During the three years, eight months, and 20 days of Pol Pot's rule, Cambodia faced its darkest days, an estimated 2 million Cambodians or 30% of the country's population died by starvation, torture or execution. Almost every Cambodian family has lost at least one relative during this most gruesome holocaust.

On January 7, 1979, Vietnamese invaded and freed the Cambodian people from Khmer Rouge's reign of terror. 600,000 Cambodians fled to Thai border refugee camps. Fearful to return back to Cambodia, many Cambodians had no choice but to emigrate to the United States, France, or Australia.

Today, many people and organizations are educating the world about the Cambodian Killing Fields. Only through awareness will the world remember the lessons of the genocide, honor the memories of the 2 million killed, and promote peace and tolerance so as not to relive the same dark days